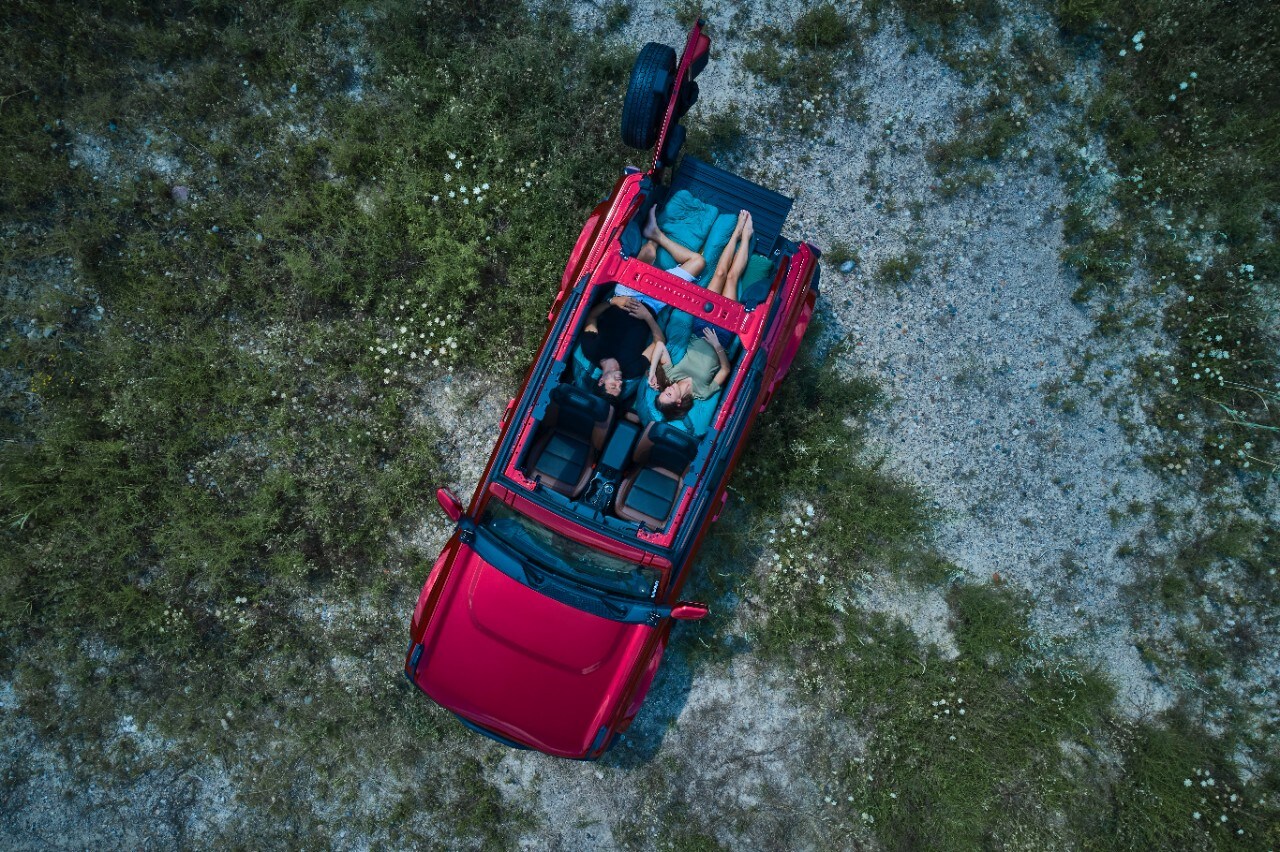 The all-new Built Wild 2021 Ford Bronco Four-Door is a rugged SUV that is designed to be the ultimate destination vehicle. The Bronco offers an ample amount of space, smart tech features, and accessories to haul gear and comfortably sleep two people.
"We spent a lot of time engaging in the outdoors with off-road enthusiasts and understood Bronco had to elevate the off-road camping experience with cleverness and comfort," said Bill Mangan, Bronco chief interior designer.
"So we made sure our four-door models could accommodate in-car camping and we followed it with best in class overall openness with the top removed so campers can enjoy spectacular nighttime views."
Sleeping Area
The cargo area on the back of the 2021 Four-Door Bronco offers more than 21-square feet of space and a maximum enclosed rear area length of 6 feet and 6 inches with the rear seats folded down. The rear area is also almost 4 feet wide with an extra 10 inches of room in the door area. Moving the front seats forward adds over 7 feet of space when lying diagonally.
Between the retractable soft top and the available lightweight hard tops, a view of the night sky is quick and easy. Removing the top of the Bronco reveals the 13.3 square foot open top.
Cargo Space
If hauling outdoor gear is the priority, the 83 cubic-foot rear cargo area on the standard four-door soft top Bronco SUVs cargo area (77.6 cubic feet with optional hard top) offers more volume for those that need it.
The two-door Bronco models also offer a roomy rear cargo area with 52.3 cubic-foot rear cargo area with the second-row seats folded down and a maximum length of 46.1 inches.
There will be more than 200 Ford licensed accessories available including Platform roof carriers and Heavy Duty two person tents by Yakima® to complete the outdoor experience.
"Bronco is designed to be more than just the rugged 4x4 that gets you there, but also the destination in itself," Mangan said. "You can have fun all day running in the desert sands or crawling along rocky trails – and at the end of the day, it's your base camp and place to relax and enjoy the great outdoors."
Reserve Your Bronco below