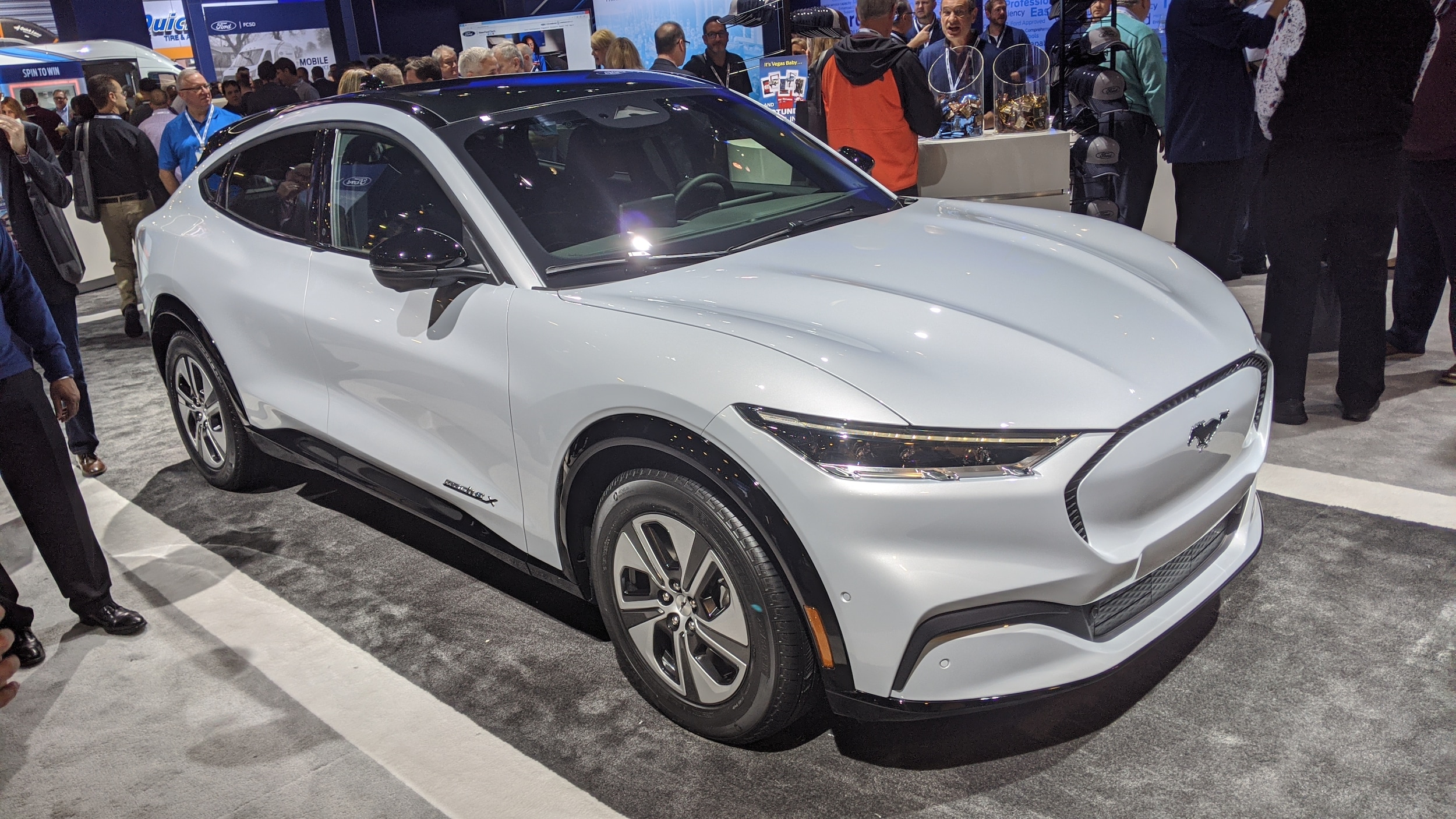 Ford is expanding the Mustang line-up for the first time in 55 years with the all-new all-electric Mustang Mach-E SUV. The new Mach-E embodies the Mustang spirit from its sleek silhouette and muscular curves to its exhilarating drive experiences. The new Mustang reimagines the idea of the American Spirit for a powerful electric future.
The Mustang Mach-E was brought to life through a development process that concentrated entirely on customer needs and desires. The result is this sleek SUV that delivers spirited ride handling with state-of-the-art connected vehicle technology.
Drive Experience
The all- electric Ford Mach-E will be available with standard and extended range battery options. Drivers can also choose between rear-wheel or all-wheel drive powered by permanent magnet motors. With the extended battery and all-wheel drive, the Mach-E has an EPA-estimated range of at least 300 miles. With this combination, Mach-E is targeting 332 horsepower and 417 lb.-ft. of torque.
Ford will also offer two special performance versions. The GT is targeting 0 to 60 in under 4 seconds and the GT Performance Edition is targeting 0 to 60 in the mid-3-second range.
"The Mustang Mach-E wholeheartedly rejects the notion that electric vehicles are only good at reducing gas consumption," said Hau Thai-Tang, Ford's chief product development and purchasing officer. "People want a car that's thrilling to drive, that looks gorgeous and that can easily adapt to their lifestyle – and the Mustang Mach-E delivers all of these in unmatched style."
The Mustang Mach-E has three different driving modes - Whisper, Engage, and Unbridled. Each of these different modes offer fine tuned driving dynamics and a unique sensory experience.
"Whether you want to really feel its performance capability or are looking for the quiet atmosphere that electric vehicles can offer, the Mach-E harnesses the power of electrification to create a unique driving experience while retaining that unmistakable Mustang feeling of freedom," said Ted Cannis, global director of electrification for Ford.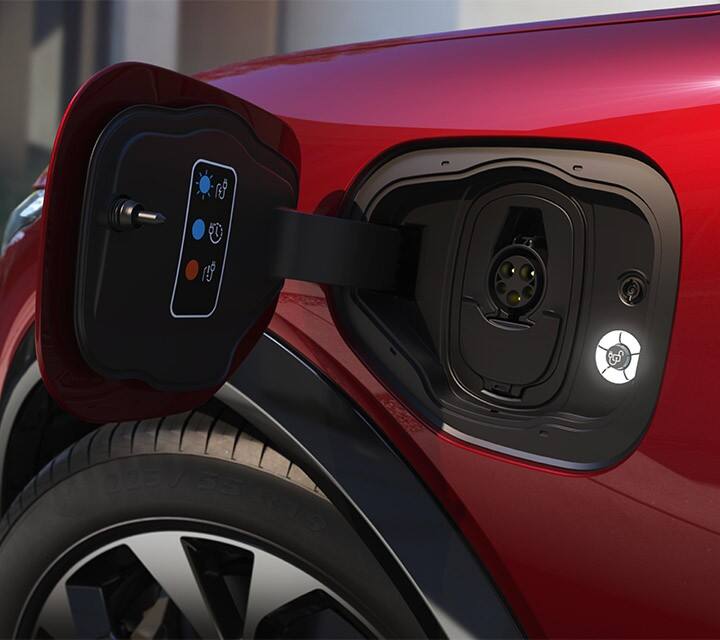 Seamless Technology
A sleek modern SYNC interface uses machine learning to quickly learn driver preferences and gets even better over time due to over-the-air updates. The simplified 15.5-inch screen makes it easier to access features with touch, swipe, and pinch controls that any smartphone user will be comfortable with.
"Next-generation SYNC actively starts adapting to you as soon as you start using it, quickly learning your preferences and making personalized suggestions," said Darren Palmer, Ford global director for BEVs "It can suggest going to the gym if it learns Mondays are workout days or calling home if you do that every day after work. The result is a cloud-connected assistant and interface that's intuitive, beautiful, and ready for the future thanks to fast over-the-air updates."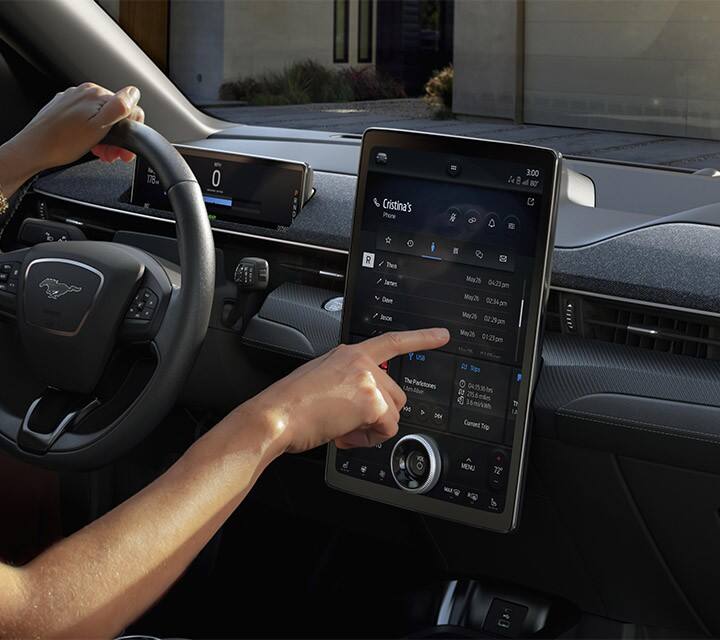 Space
With the Mach-E running on a battery, there is a lot of free space where the engine would normally be. Engineers have turned this space into a
front trunk
under the hood that allows 4.8 cubic feet of space. The front trunk is large enough to store the equivalent of a carry-on luggage bag. It also has a drain so that users can pack it full of ice and keep their favorite beverages cold - perfect for a tailgate or a trip to the beach.
In addition to the front trunk, the rear trunk offers 29 cubic feet of pace and with the back seats folded down, there is a total of 59.6 cubic feet of space. The Mach-E is designed with SUV proportions so five adults can fit comfortably in this vehicle.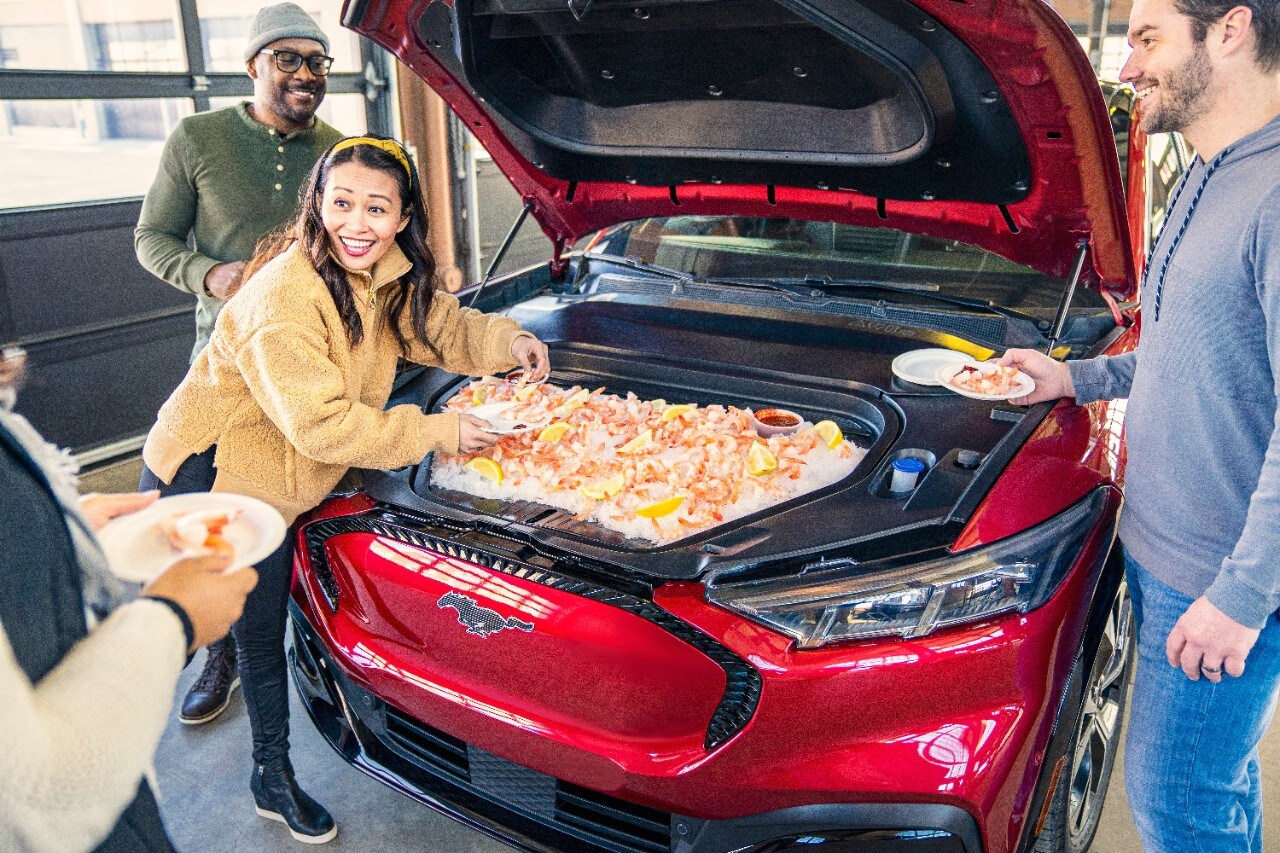 Interior Design
Inside of the Mach-E represents a fusion of sleek, modern design and functionality. There is space to store purses or bags, flip-up armrests, and traditional Mustang design cues like the double-cowl instrument panel.
There is an available panoramic fixed glass roof that features a special coating with UV protection that helps the interior stay cooler in the summer and warmer in the winter.
To learn more about the all-electric Ford Mustang Mach-E, click
here
.