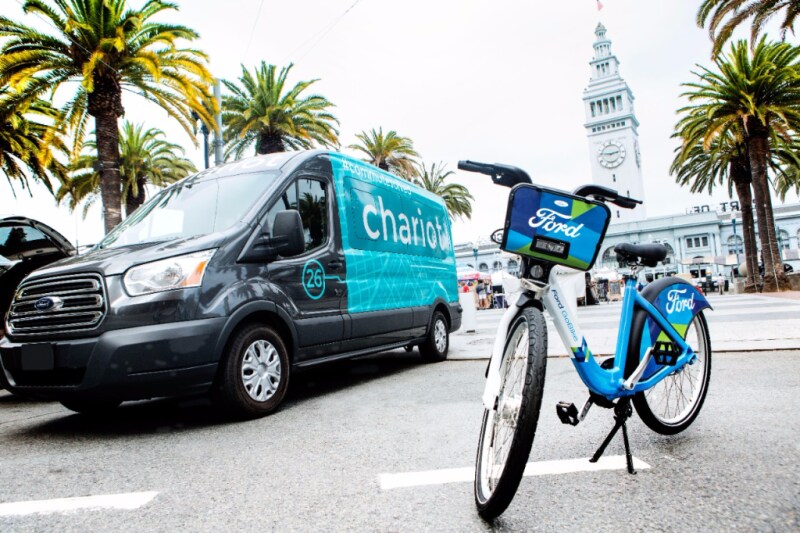 Ford is teaming up with major cities - starting with San Francisco - to reduce traffic congestion by growing shuttle service and collaborating with bike-sharing provider Motivate to expand its transportation solutions in city centers. The company has announced an agreement to acquire Chariot, a San Francisco-based crowd-sourced shuttle service, and is also establishing a new City Solutions team to work with cities around the world on their transportation needs.
"We're expanding our business to be both an auto and a mobility company, and partnering with cities on current and future transportation needs is the next major step," said Mark Fields, Ford president and CEO. "For more than 100 years, Ford has been part of the community and the trusted source for automotive transportation. Now, we want to work with communities to offer even more transportation choices and solutions for people – for decades to come."
Ford's acquisition of Chariot, subject to normal customary closing conditions, will serve as the cornerstone for its new global shuttle services business. The shuttle service is expected to be expanded beyond San Francisco to at least five additional markets in the next 18 months. The Chariot shuttles complement mass transit by filling the gap between taxi and bus services – providing an on-demand, point-to-point transportation option that is convenient, efficient and cost-effective. For every one dynamic shuttle that is placed into service during peak travel times, urban congestion could be reduced by up to 25 fewer vehicles, according to a private study for Ford conducted by KPMG.
Bikes are another important mode of transportation for commuters in the Bay Area. Ford and Motivate, the global leader in bike share, are working with city officials to add new stations and increase the number of bikes to 7,000 in the Bay Area by the end of 2018. When it launches next year, Ford GoBike will be accessed by users through the FordPass platform.
Ford also is establishing its new City Solutions team to work with cities on expanding mobility services worldwide as part of Ford Smart Mobility LLC. John Kwant – who has worked with several global cities during his Ford career as part of the company's government affairs and global strategy teams – has been tapped to lead the effort as vice president, Ford City Solutions. No word yet on when these new initiatives will reach Pittsburgh.
For information about Ford vehicles available, please visit SmailFord.com.