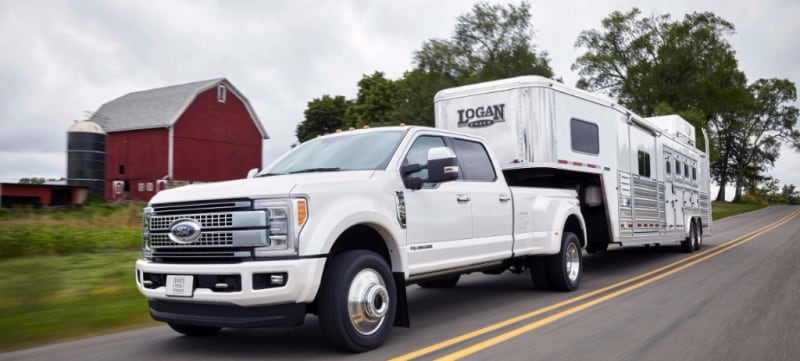 With a host of new driver-assist technologies like Adaptive Cruise Control, Adaptive Steering and Blindspot Information System (BLIS) with Trailer Tow, the 2017 Ford F-Series Super Duty is the smartest Super Duty ever.
Adaptive cruise control uses radar to manage the distance between you and the vehicle in front of you by speeding up or slowing down when necessary, and it even integrates with powertrain control and trailer brake controls so you can manage while also towing a trailer. "Towing is core to the Super Duty mission, and drivers will appreciate the engineering sophistication that enables adaptive cruise control to determine speed uphill and downhill with a trailer," says Craig Schmatz, Ford Super Duty chief engineer.

Adaptive steering, an upgrade of power steering, makes maneuvering easier by reducing the amount of steering input needed at low speeds, while reducing the sensitivity to steering input at higher speeds. An electric motor and gearing system within the steering wheel will know how fast you are going, and adapt how many times you need to turn the steering wheel depending on the situation. So you'll have more control of your vehicle in parking lots and work sites, and also have an easier time while towing at higher speeds, for a more connected, engaging driving experience at all speeds.


BLIS with trailer coverage uses radar to sense a vehicle entering a blind spot while driving or backing up, and alerts the driver with a light in the sideview mirror. With the new 2017 Super Duty, BLIS can go all the way to the back of the trailer, extending the blind spot coverage to include whatever you may be towing.
More information about the new driver-assist technologies can be found here, and be sure to look into Super Duty pickups available at Smail.