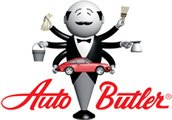 Smail Ford offers up the superior Paint Protection, Fabrigard, Leather Protection and Underbody Protection packages, thanks to an amazing machine called the Auto Butler. Read more about each service by clicking the corresponding links or simply scroll down. For easy plan information, read our quick FAQs.
Premier Paint Protection II: 5 Year Paint Protection Warranty with Follow-up Program
Keep your new car "Showroom Bright" with our Buff N' Shine Car Polisher
Would you like to protect your vehicle from the ugly spots caused by exposure to weather, road contaminants, fallout and acid rain? Do the unsightly marks left by bird droppings and tree sap bother you? You could regularly polish you car, but that takes time and energy, plus it's costly. Why go through all that effort when there is a better way to keep your car gleaming bright? The Auto Butler Premier Paint Protection II program, with its two-step process, gives you the protection you need and the shine you want - we guarantee it!
Auto Butler's two-step re-application program gives you years of protection and assures a "new car finish" look that more than redeems the application cost when it comes to trade-in time. Auto Butler even sends you re-application reminders to be sure your car looks its best... all the time!
Ask us to show you the Auto Butler exclusive Premier Paint Protection II follow-up program.
The 5 Year Premier Paint Protection II with Acid Rain Warranty and Follow-up Program:
This limited warranty covers the exterior painted surface of any vehicle treated with Auto Butler's Premier Paint Protection II. Should your vehicle become dull or lose its gloss, be adversely affected by bird droppings, tree sap or acid rain, Auto Butler will have the affected surface retreated.
Auto Butler's Premier Paint Protection II protects the finish of your vehicle with a two-step system. The first step cleans, polishes and shines the surface of the vehicle, preparing the painted surface for step two, a second coat, which provides a tough shield against environmental hazard such as acid rain.

This warranty is applicable to any privately registered motor vehicle which receives an application of Auto Butler's Premier Paint Protection II.

This warranty shall remain in effect provided the vehicle is retreated with Auto Butler's Premier Paint Protection II at the prescribed intervals.

Auto Butler will remind you by US mail of the date for re-application of Premier Paint Protection II during the warranty period. Each re-application extends the warranty to the next re-application due date.
Fabrigard Protector for Upholstery and Carpet can be applied to your new vehicle interior… at any of the Smail Auto Group locations.
Here's what your get with Fabrigard Protector for upholstery and carpet:
Protection from spills: Even when a spill occurs, Fabrigard Protector helps keep it from penetrating into the fibers. Liquids such as soft drinks, coffee, milk and other water or oil based spills can be easily cleaned up.
Protection from dry soil: Fabrigard Protector makes it difficult for dirt particles to cling to fibers. Routine vacuuming becomes easier and more effective.
Have us protect your vehicle's interior with Auto Butler's Fabrigard Protector for upholstery and carpet - the name you can trust!
Fabrigard Protector provides a protective barrier for upholstery and carpet fibers so they resist soils and spills.
With Fabrigard Protector at work, your vehicle's interior can keep that new look longer.
Will not change the look, feel or breath ability of upholstery. Water based formula provides excellent stain repellence. Helps keep fabric and upholstery clean and new looking longer. Satisfaction guaranteed.
General Tips for Leather Care:
Do not cover leather goods in plastic or other nonporous cover.
Allow wet or damp leather to air dry naturally, away from any heat source.
In winter, remove any salt deposits by cleaning with a sponge and clean water.
To prevent mildew, protect leather from excessive humidity. In a dry environment, retreat with leather treatment regularly.
Never use caustic household chemicals to clean leather. Also, avoid anything with alcohol or mineral spirits as they can pull the color.
Do not use waxes or silicones that may impair the ability of the leather to "breathe."
A fine leather interior represents a major investment worth protecting. Leather requires frequent conditioning to replace the natural lubricants lost during normal use. With the proper care, leather can be protected from the loss of lubrication due to migration, evaporation, and the breakdown of its oils. The Auto Butler Leather Protection System protects against mildew and swelling caused by moisture and cracks due to dryness.
With the Auto Butler Leather Protection System, you receive a conscientious program of care from the onset in order to maintain your leather's beauty and durability. Without regular care and treatment the leather gets dull, hard and brittle. Its fibers become stiff and unyielding, eventually breaking and cracking irreparably.
With Auto Butler's Warranty, you have peace of mind because you are covered. Your vehicle is retreated every six months to give your leather products the protection they need. You also get a warranty against any cracking or peeling that may occur.
Question: With whom does the customer make an appointment for the re-application?
Answer: Our Service Department, contact: 1-877-604-4331
Question: Do we send reminders to the customer?
Answer: Auto Butler Warranty, sends out bright green reminders to participants every 6 months.